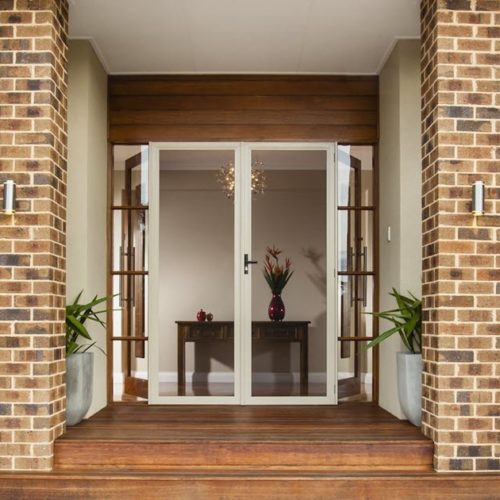 Effective front door security is your first line of defence against unwanted intruders, but you also want your home entry to be aesthetically pleasing.
Fortunately, there are many ways to enhance the appeal of your home, including the design of the entryway, while still maintaining security.
Here are five entry and front door security design ideas to consider for your home.
Consider Colonial Castings
Our range of colonial casting decorative security doors are a stylish and secure option for your front door.
They offer more than your typical aluminium door in that they have an extruded aluminium frame to perfectly fit your entrance, along with a die-cast inner grille.
They are available with various grades of flywire mesh for keeping out insects and providing privacy. Choose your favourite powder-coated colour finishes to turn your front door into a stunning statement.
Choose the Right Material
Besides being secure, your front door needs to be robust enough to withstand Perth's seasonal extremes – from hot, dry summers to winter storms.
When choosing your front door keep in mind how exposed it will be and the type of materials that will offer greater weather resistance.
Wood
This is a traditional choice and appealing because it can be painted or finished however you like. Standard thickness wood doors can be sealed to stop cold air from getting into your home.
Pros:
Design flexibility allows for custom crafting
Able to be painted, stained, or varnished
Easily accepts the installation of many different types of locks
Great insulation
You can install it yourself
Cons:
You'll need to refinish with a new coat of paint, polyurethane, or (for varnished doors) sanding and recoating every so often
Possible fire hazard
Deteriorates faster if in an uncovered entrance
Potential to warp or show instability during harsh weather
Aluminium
Aluminium is a great choice if you want a material that is stronger than wood but more cost-effective than steel.
Pros:
Stable in extreme weather; won't expand with heat or contract with cold
Strong and durable
Resists corrosion
Can be finished with paint
Inexpensive
Cons:
Weakens in high temperatures due to its ability to conduct heat
Poor insulation
Needs small repairs and touch-up coats of paint to fix scratches, dents and marks
Fibreglass
As strong as steel, this increasingly popular choice can mimic the look of wood for the best of both worlds.
Pros:
Great insulation and energy efficiency
High-end smooth look
Variety of grains, styles and colours
Weather-resistant and durable
Accepts stains and paint
Cons:
Expensive
Difficulty in custom fitting
Needs professional installation
Steel
More affordable than fibreglass doors, you get the best security and added home value with a steel door.
Pros:
Affordability
Incredible security
Adds value to your home
Unique-looking with either a smooth or textured surface
Requires little maintenance
Cons:
Not very energy efficient in harsh weather
Absorbs outside temperatures
Potential to rust and dent
Cannot be painted or stained
Use Window Film
Security window film is an ideal solution for glass doors, glass inserts on front doors or for added security to windows on the front of your home.
Window film provides safety and security benefits protecting against severe weather and keeping glass fragments together if windows are shattered.
Window film also reduces UV light entering your home, slowing carpets and furniture from colour fade.
Enhance with Security Screens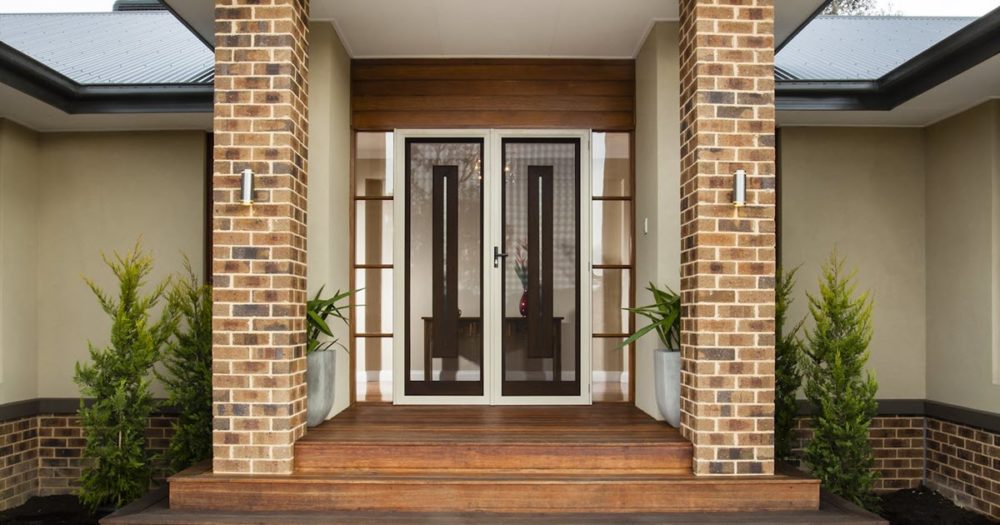 We have a wide selection of security screens for all types of doors and windows. Our cyclone security screens, for example, are the best protection you can get against harsh tropical weather.
They act as a deterrent for would-be intruders while matching your home's style. Choose from stainless steel or aluminium in several mesh designs with a variety of colours.
Add Lighting
Thieves typically target the front door when they first attempt to gain entry to a home, so keep in mind a few tactics to make this less appealing to burglars but welcoming to guests.
Bright lights over the door at night will deter potential intruders from trying to sneak in the front door, while invited guests will thank you for lighting their way.
You could also set up an outdoor motion sensor or light detector that will activate when anyone is at the entrance, especially handy to save power at night and to alert neighbours of activity when you're away.
Central Screens & Locks supply security screens and locksmith services to improve both the security and appeal of your home. Find out more about front door security options for your home today.