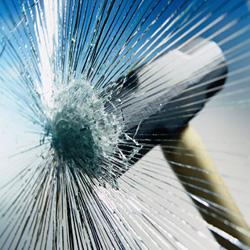 There are so many different security products out there, it sometimes becomes difficult to differentiate between the assorted brands, makes and models. We often get asked by our Perth customers, about security window film, and how this differs from other products, such as window tinting. So here is a simple explanation of the two, and how security window film can benefit your home or commercial residence:
Window Tinting
Window tinting is very common in cars and commercial buildings. It changes the shade and/or colour of the window. The primary reason is to block out glare, and stop people from seeing into the vehicle or building from the outside (common in office buildings with mirrored tinting on the outside).
Security Window Film
This is an invisible layer of film, applied to the inside of windows, which is designed to keep glass fragments together, so that glass doesn't shatter. This prevents glass shards from flying around and makes it more difficult for intruders to gain entry.
Main benefits of security window film:
Safety
The film stops the glass from shattering, to avoid injuries. This is especially useful for large areas of glass, such as the front of shop windows. If these windows were to shatter, the small airborne shards can become very dangerous.
The film is designed to withstand heavy impact, to prevent fragmentation of these dangerous glass shards during severe weather conditions, such as cyclones. By keeping the broken glass together, it stops debris from flying through the windows, invaluable during severe weather. Paired with cyclone security screens, this is the best protection for homes and commercial buildings, during heavy winds.
Security
As mentioned, the film is smash resistant, which has the added benefit of inhibiting intruders from gaining entry. It would take a prolonged time to smash through the glass and film to gain entry, which makes it an excellent choice to prevent burglaries.
Energy Saving
The window film also offers intense UV ray protection. Given Perth's harsh summer climate, this is an excellent choice to significantly reduce cooling bills in summer, while also helping retain heat in winter. The UV filtering also helps to extend the life of indoor furniture and other furnishings such as carpets and wall art. You can also select a darker film to add an extra level of privacy to the street front or high traffic area windows.
Central Screens & Locks offer the 3M Impact Protection System, which combines the tough 3M Security Window Film, with 3M Impact Protection Adhesive, which secures the window film to the frame. This creates much stronger protection, by holding the film in place, during heavy impact.
3M is a market leader in this adhesive technology, so you can be assured of the highest standards, backed by a 10-year warranty. 3M are renowned worldwide for their innovative technology and continuous improvements.
If you are still not sure whether security window film is right for you, speak to one of our Perth security experts, who can talk you through your options – call us today for an obligation-free consultation, measure and quote!