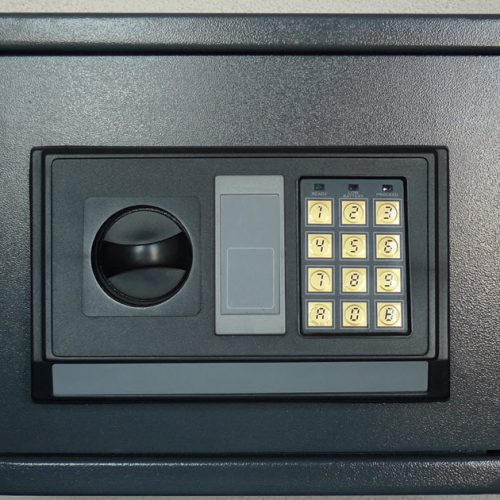 When most people think of safes, the first image that comes to mind is either the dark cube that falls on cartoon characters or the intimidating bank vaults that require a team of elite thieves with an arsenal of high-tech tools to crack.
The reality is that there are a number of different safes to suit your home and business needs. The key to choosing the proper safe depends on what needs to be protected, and from what you're protecting it. Here are some tips to take into account when you are searching for the perfect safe for your home or business.
Questions to Ask
1. How much stuff are you looking to protect?
The answer to this question helps to determine what size safe to consider. Then, choose a safe that's slightly bigger. Many people underestimate how much space they want. While you don't want a hulking cabinet-sized safe for a few, small, precious items, you want to make sure that should you need more space in the safe for future, similar acquisitions; you will have enough extra room, so you won't have to buy a second safe.
2. From what is this stuff being protected?
Most people are looking to protect items from fire, from theft, or from both.
Protection against fire. These safes are usually purchased by families for their heirlooms, precious jewellery, and sentimental items, which are priceless. The prices and level of protection are based on how long the safe will be able to withstand the fire. Note, even though these are called fireproof safes, no safe is completely "fireproof"; their ratings are based on how fire resistant they are. Most people get a safe that will protect against fire damage for about 30 minutes, although some will protect for roughly 60 minutes – a few even for 120 minutes.
Paper burns at roughly 232 degrees Celsius (remember the book Fahrenheit 451?), and the average temperature of most fires is over 590 degrees Celsius. Document fireproof safes keep their interiors at around 175 degrees Celsius by keeping the moisture locked in.
CDs, DVDs, and anything that stores electronic data should not be subjected to temperatures higher than 50 degrees Celsius, so you should look for a data fireproof safe.
Protection against theft. Although there are locks on fireproof safes, the locks on security safes tend to be of higher grades, making them harder for burglars to pick.
Wall safes look great in movies but apart from concealment, do not offer the best protection. They are attached to the studs in your wall and are not that difficult for thieves to remove. Besides, savvy thieves are more likely to be on the lookout specifically for hidden safes.
Floor safes are more effective if installed in concrete, but have no fire protection.
Lock security ratings and what is more practicable for you are more important than the type of lock (i.e. dial vs. keypad). If you are forgetful, a code to punch in may not be ideal. If you tend to lose things, a key may not be the best option.
If security is your main concern, you may want the safe as just one component. You should consider having a security system, motion lights, etc. as well.
Protection against theft and fire
These hybrid safes try to give you the proverbial "best of both worlds". Make sure that you look at both the security and fire ratings when you are assessing which model to buy.
3. What kind of business do you run?
The type of business you have and how you operate it are also important factors to consider when looking for a commercial safe.
Some restaurants or rental places may be best equipped with a "deposit and drop" safe, which utilises a hopper door through which you or others can easily and quickly deposit items such as money or keys. Access to the contents of the safe is through a locked door.
Retailers and offices often have fireproof or hybrid safes that can be bolted to the floor, since they are most likely concerned with the security of data and documents.
When In Doubt, Ask An Expert
If you tell them what you plan to put in the safe and what your concerns are for these items, the experts in Perth can tell you exactly what you need. Don't wait until it's too late; Contact us and protect your heirloom, documents, sensitive data, and things of sentimental value in one of our trusted, high-quality locks and safes today.