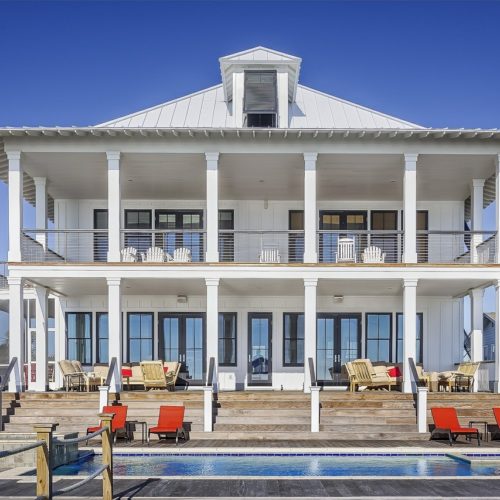 Home burglary is a big deal. It doesn't matter whether you're renting or a homeowner, every one of us deserves to feel safe in our own properties. Regardless of what home security measures you take or how safe you may feel, mistakes are more common than we realise. Often, we just get too comfortable. We slip up. We forget who has a copy of our spare key (or how many are even out there), we post on social media we're going on holiday, leaving an open invitation that our property is unattended, or we simply don't invest in the right security measures.
It's surprising how smart thieves can be too. They don't need much to gain access to your home, and they're trained in finding the little mistakes we commonly make. With over 200,000 burglaries recorded in Australia on a yearly basis, it's becoming increasingly important to up our security measures and determine what areas are lacking. Here's what you want to avoid when it comes to home security:
Re-Use the Same Set of Keys
Unless the property you live in is brand new or the locks have been changed since you've moved in, you always run the risk of other people having access. It's a scary thought, but not every past owner or tenant can be trusted. Thus, precautionaries should always be taken. You never really know how many sets of keys exist to the property you're living in now. It's always worth having the locks re-keyed when you move in. Most landlords and property managers support the idea, especially in homes that have had dozens of renters come and go.
If you are the homeowner, consider investing in SMART locks which can be controlled by an app or secure pin number for the ultimate security. Moving into a new home is always a good opportunity to assess the locks currently being used, and consider changing them to something more secure for your home security needs.
Leave Spare Keys in Obvious Places
We've all been guilty of this at least once!
Long gone are the days when the spare key could be left under the doormat or that plant pot on the porch, thieves will always target these places first. Ideally, you don't want to leave a spare key outside your property at all. If you do have too though, avoid the convenient but very easy to find spots like flower pots, doormats, shoes, meter boxes and letterboxes.
There are smart ways around it if leaving a spare key out is necessary. Magnetic lockboxes are specifically designed for these circumstances. Your keys can be safely put inside the box and the box can be hidden in a location that's hard to find or reach, secured underneath or on the side of something. A good place can be underneath the lid of the BBQ.
Avoid Getting to Know the Neighbours
If you're not one to knock on your new neighbours' door with freshly made muffins and a welcome card, that's ok. Not all of us find it suitable to socialise with the rest of the street. It does, however, help with home security to make yourself known.
Getting to know the people near your home can be an easy and cost-effective security measure. Once you have made yourself and your family known to the neighbours, they're in a better position to report any unusual activity. If a stranger is attempting to get into your property, there's a bigger chance someone on the street will notice and call the police. All it takes is a quick knock on the door to introduce yourself face-to-face, and it's a small task worth doing to make your street safer.
Have Visible Wires in Home Security Systems
Investing in a home security system is a great move for any homeowner or renter. According to Budget Direct, 49.1% of thieves have admitted to being deterred from a property that has a functioning alarm system making it one of the best security measures to take. To make the investment worthwhile though, it's vital there are no visible wires. Security systems that do have wires on show can provide the perfect opportunity for a thief to disconnect the system. There are multiple wireless security systems available but if yours does have wires, make sure all wiring is concealed.
Show off Personal Items and Valuables
Another thing you want to avoid showing off to potential burglaries is your personal items – especially those valuables. Whilst it's nice to have the things we love on display, it's too big of an invitation for those scouting for something to steal. Keep your valuables away from the windows where they can be seen from the street or people peering in. It's a good idea to install curtains or blinds to conceal anyone seeing what items you own.
Avoid hiding valuables in your bedroom too. This is one of the most common places a thief will look should they enter your home. Get creative with your hiding spots and keep them secured over several locations around the home. Depending on your security needs, it may be worthwhile investing in a safe for smaller valuables. Ensure the safe is securely mounted to a permanent location for full thief-proof.
Keep Lights on 24/7
It's no secret that leaving the lights on in an unattended property can make it appear that someone is home. But, leaving the lights on 24/7 is a big giveaway that you're trying to do just that! It's like a beacon to burglars no one is home, although it feels like you're doing the right thing to deter them. The best option is to install timers to switch lights on and off when the house is unoccupied.
Timed lights (and timed audio, too) can be set at specific times from a smartphone app regardless of where you are. The balance between the two, as opposed to just having lights left on the entire time, acts as a much more effective deterrent for burglars. Installing motion-activated lights should also be considered for pathways, the front porch and driveway to scare off any intruders.
Advertising What Security Alarm You Have Installed
Contrary to popular belief, promoting alarm systems through those generic signs is a bad idea. Anyone can walk into a shop and purchase a 'house guarded by…' sign, and thieves know it's simply just that. A sign. And for them, it's a good one. These signs are a way to give them more information than they need or currently have.
Before breaking in, an intruder will assess the property. They already have to wonder whether or not an alarm or security system could be in place – don't make their job easier by telling them what type of alarm you have installed.
A sticker with the company details of the alarm or what type it is can give a burglar the information they need to bypass it. They might know how to deactivate the one being advertised in your sticker on the front window or may be familiar with the faults associated with the company looking after it. Whatever it is, you don't want them with any more details than they need. Take down the stickers and signs, and keep your security cameras or system running strong.
Good home security comes with the right tools and knowledge. In order to protect your home from intruders, you need to think like one. For more information about how Central Screens & Locks can help keep you and your family secure, speak to one of our security experts today.