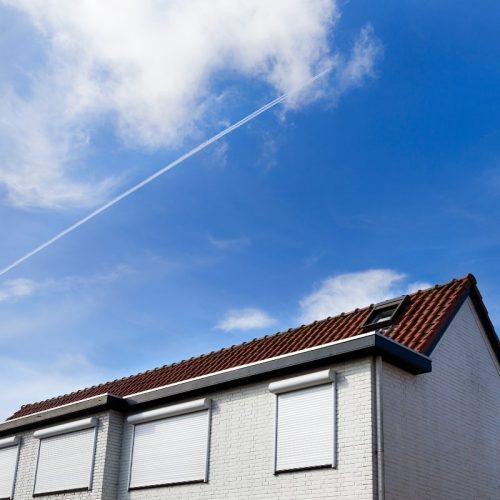 Installing roller shutters to your residential or commercial property comes with numerous benefits. Enhanced privacy, and property value are just a few of them. But how best they serve you all depends on how best you maintain them. Cleaning roller shutters is not easy, especially if it's your first time. However, with the right guide, everything will be a breeze.
Here is your ultimate guide on how to clean roller shutters.
What will you need to clean roller shutters?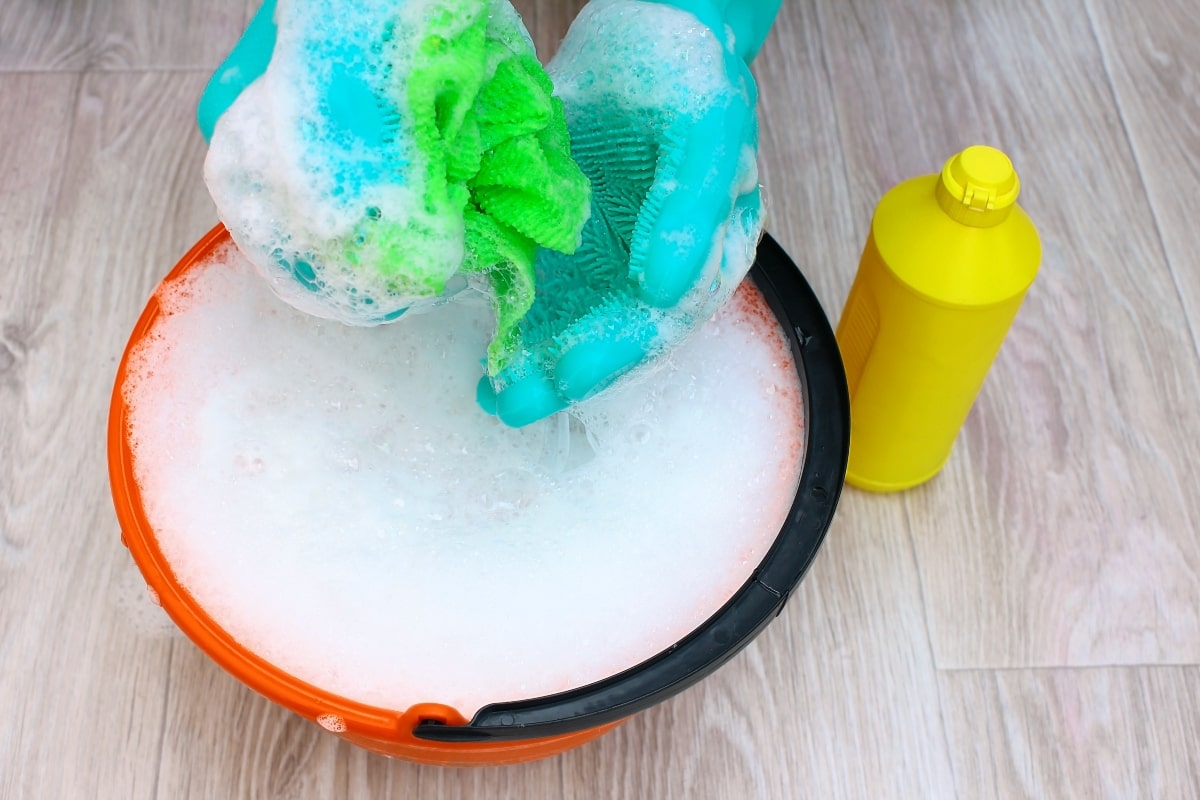 A bucket of warm water
Mild detergent or dish soap
A clean, soft cloth
Soft-bristled brush
Garden hose
Mop
Cleaning the inside of your roller shutter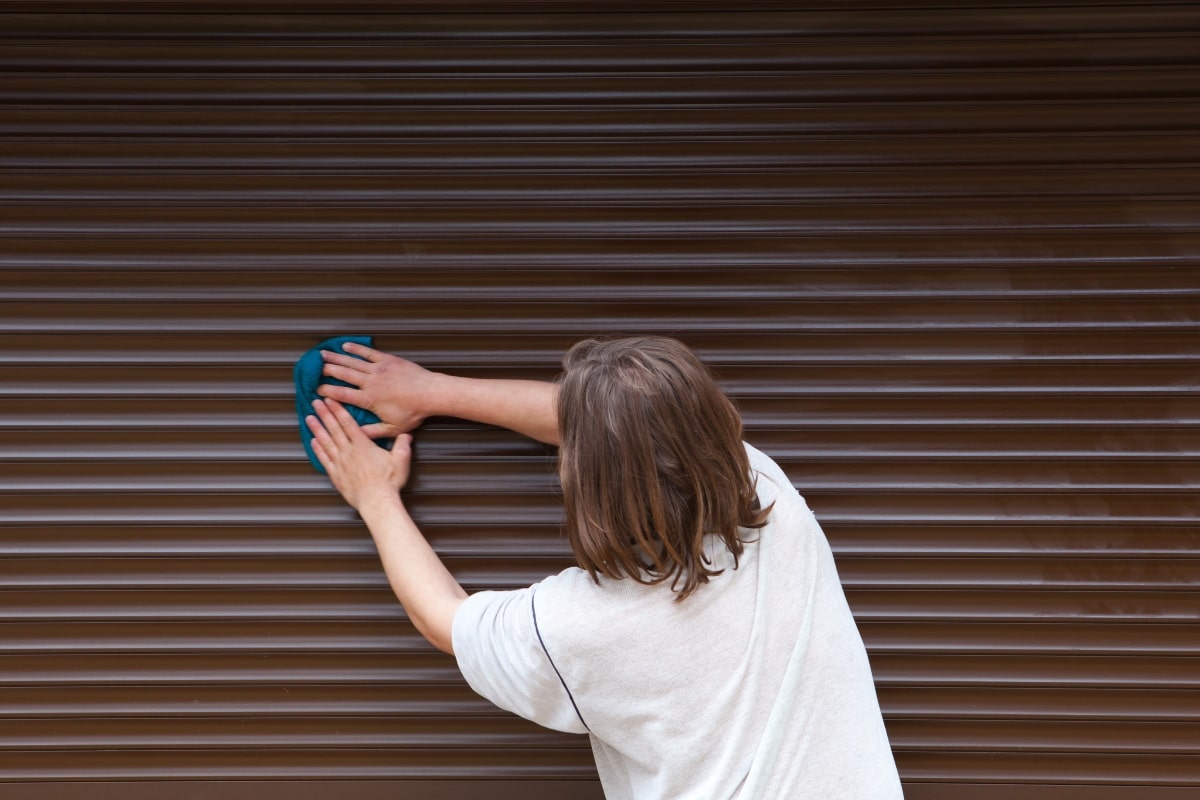 Following these five steps will leave your roller shutters clean and beautiful:
Step 1: Dislodge hard dirt
Ever noticed running dirty lines on surfaces after spending hours cleaning your door? If yes, then you probably missed out on this step. Before going in with water and detergent, take your time to remove any stubborn dust, mud, or other debris that might have accumulated over time.
If it's just dusting, wipe the shutter with a dry cloth. To avoid dislodging the paint, use a soft-bristled brush and rub gently on hard mud. A soft brush also comes in handy when cleaning hard-to-reach parts — this includes the space between the individual slats.
Step 2: Hose the roller shutters
Hosing can save lots of energy on premises with huge doors and high traffic by removing grime. Use a garden hose with moderate pressure to dislodge stubborn dirt and remove dust.
Step 3: Get rid of stains
Cleaning the surface of visible dirt aids in the detection of stuck stains. Removing these stains doesn't have to be challenging either. You only need a bucket of warm water, mild detergent, and a soft cloth.
Add the detergent to the warm water and give it a good mix. Use the piece of damp cloth to apply your solution to the shutter surface. An up-and-down motion is recommended. This motion might be more draining; however, this helps to prevent misaligning the shutters.
When working on painted shutters, use moderate pressure to clean them. Gently wipe in a downward direction to avoid damage to the paint.
Step 4: Rinse off window shutters with clean water
Rinsing the shutters with clean water helps to remove any dirty and soapy water. You can also use a hose for more efficiency.
Step 5: Dry the slats
The final step to cleaning the inside of window roller shutters is drying the slats. Use a clean, dry towel, running it in an up-and-down motion.
Cleaning the outside of your roller shutter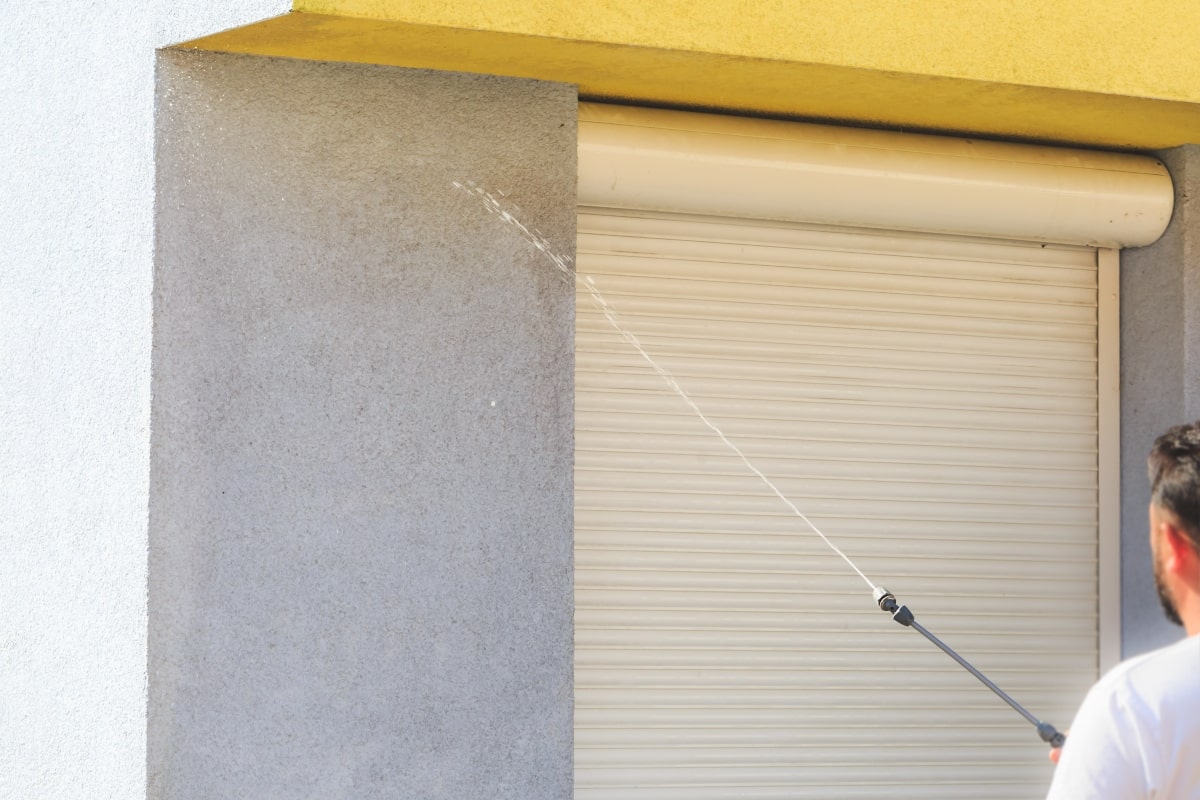 The cleaning process for the outside of roller shutters is similar to how you handle the inside. However, using just the towels might not be sufficient due to their exposure to dirt. You will need a garden hose, mops, and soft brushes with long handles or a brush attachment. For roller shutters with a high height, mops and brushes with an extension pole are more suited for the task.
Then start cleaning by doing the following:
Use the hose to detach all the hard debris.
Add enough mild detergent to a bucket of warm water and mix well.
Dip the mops into the solvent and use them to clean the roller shutter. Attend one shutter at a time.
Do not let the detergent sit in for too long until it dries.
Rinse everything with the hose under medium water pressure until everything is clean.
Use a clean towel over shutters until completely dry.
Top tips to properly maintain roller shutters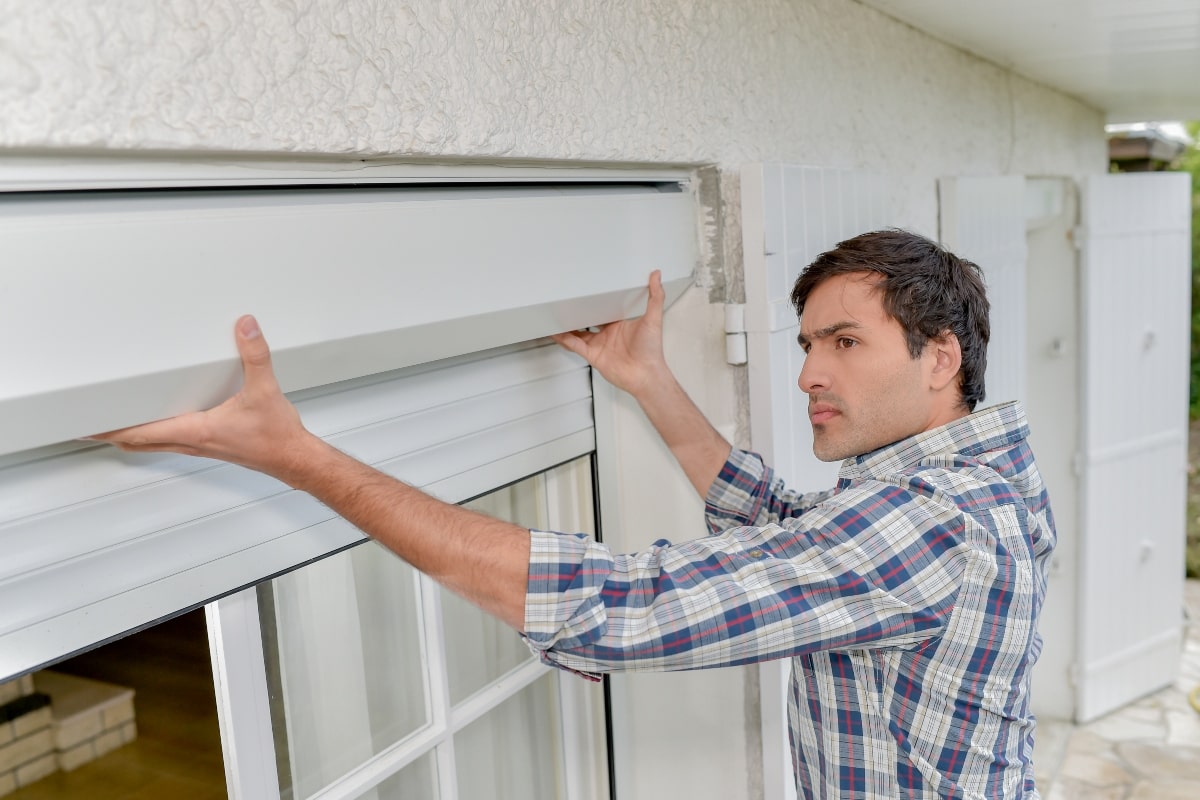 Learning how to clean the inside of your roller shutters is a good start to maintaining their rolling mechanism. Other ways to keep your shutters looking new for up to ten years include:
Lubricate the bearing
Greasing the rolling mechanism ensures it runs efficiently. Lubricate the moving areas at least once a year. Also, oiling the guiding rails will enable smooth opening and closing of the shutter without irritating noises.
Routine mechanism checks
Pay attention to your door. Call a professional to inspect for any sign of stiffness in its movement, unusual noises, or wear and tear.
Run your roller shutter carefully
Operating the roller shutters in a hurry and forcefully opening and closing them will cause damage to the door. Avoid slamming them on the headbox, as it could lead to total door malfunction.
Keep window shutters balanced
Have a professional perform a balance check if you notice that your mechanism gets stuck when going up or down, this might be what is causing it.
Regular inspection
An early inspection helps get a hold of issues at an early stage. That means inexpensive repairs down the line and a fully functional door.
Importance of regular cleaning and maintaining roller shutters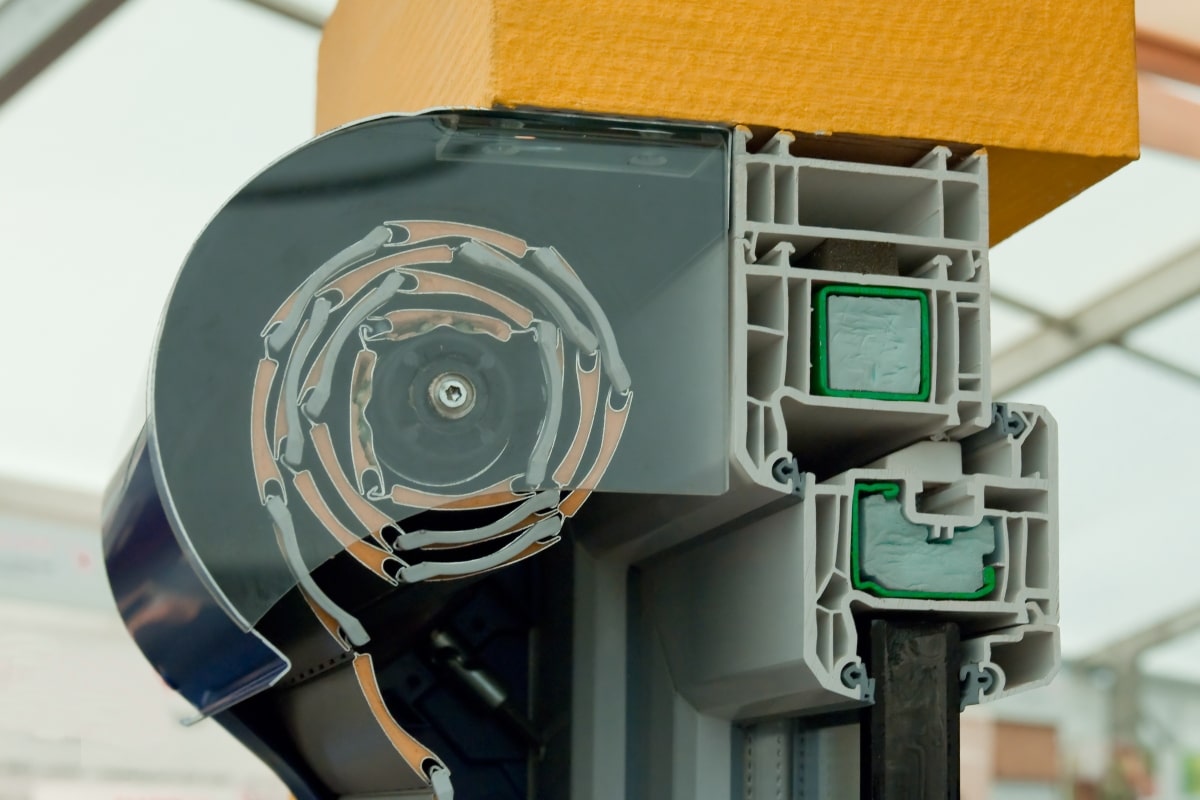 Ensuring the best condition of your window shutters gives you the following benefits:
Energy efficiency
Security shutters provide superior insulation, blocking up to 90% of the heat coming through windows in summer and reducing heat loss in winter by up to 70%. Not only does this mean a more comfortable home all year round, but it also means significantly lower energy consumption.
Noise reduction
No more waking up early due to loud neighbours or traffic. Roller shutters are a great way to reduce noise levels, blocking out up to 50% of external noises for maximum comfort.
Reduced accidents and injuries
Unattended shutters can be more hazardous than you could imagine. Imagine someone passing by and the door suddenly has a reversed movement. Given the heavy weight of the door, surviving such a crush would be a miracle. Similar to your vehicle, the damages on it would be detrimental.
Easy access in and out of your property
Accumulated debris and unattended minor problems might cause a total door breakdown.
Boost property value
A well-maintained roller shutter increases the value of your property if you're planning a renovation or decide to resell in the future.
Enhanced aesthetic appeal
Keeping your shutters and rolling mechanism clean gives your home curb appeal. Nobody loves a rusty door, worn-out paint, or a door hanging on one side.
Get quality roller shutters with Central Screens & Locks
Are you interested in replacing an outdated roller shutter with a new one or getting an experienced specialist to install a new door for you? If so, Central Screens & Locks has the perfect solution.
Central Screens & Locks are experts in security roller shutters, as well as security screens and doors. Not only are our products incredibly effective at protecting your home, but they also look great! You can choose from a range of colours and designs to find the perfect fit for your home. Plus, our products are made to last – so you can enjoy peace of mind for years to come.
Get in touch today to find out more about our products and how our team can help you secure your home.
FAQs about how to clean roller shutters
It depends on factors like the surrounding environment and how often the door is used. However, you should do dusting and light maintenance at least once weekly and deep cleaning every two to three months.
Yes, servicing your shutter door is vital and highly needed to ensure its optimal working condition. They are often exposed to harsh elements and often operate, which can cause wear and tear over time. Annual servicing by a certified and experienced professional will keep your door running smoothly.
Readily available detergent, like dishwashing soap, will render the desired results — but never use bleach to clean your shutters. Also, avoid abrasive tools like hard brushes and steel scrubbers. They irritate the surface, especially paint, leaving more damage than good.