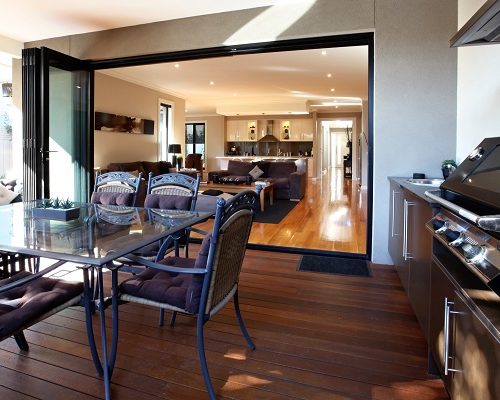 The outdoor kitchen is a phenomenon that more and more Perth homeowners are choosing to embrace. It offers the ultimate versatility, as it brings your indoor and outdoor lifestyles together, giving you a choice of where you cook, eat and relax. Renovating your backyard to include an outdoor kitchen provides you with a dream space for dining and entertaining in summer, enabling you to make the most of the warm weather.
But what should your outdoor kitchen include? And which factors do you need to consider when designing this innovative outdoor space?
Here we offer our favourite Perth outdoor kitchen ideas, to give you some inspiration when creating an outdoor kitchen of your own.
1. Stacking Doors
Bi-fold security doors look sophisticated and stylish and make your outdoor and indoor spaces flow seamlessly into one another. This is ideal for entertaining, as it ensures your guests are not segregated into different areas, making it easier for everyone to mingle. Your party will be so much more memorable because it felt sociable and cohesive!
In addition, stacking doors are the perfect option if you want to maximise the amount of available space both indoors and outdoors. As they stack neatly against themselves when opened, they also take up no floor space, unlike traditional doors which must open inwards or outwards. For more inspiration, check out our tips on how to use French Doors to enhance your outdoor area.
2. Cooking facilities
A barbecue is an essential piece of outdoor kitchen equipment – but should you choose freestanding or built-in? This really depends on your preferences and usage needs. However, a built-in barbecue has the advantage of being easier to cover if it rains, as your entire outdoor kitchen can be built with shutters and covers which can easily be pulled over the entire space.
That said, there is no reason why you must limit yourself to one barbecue – or even stop at a barbecue at all! Many outdoor kitchens these days are fitted out with a wide variety of sophisticated equipment, from pizza ovens to grills and stoves, so your cooking outdoors can be as versatile and creative as it is inside the home.
If you plan to make a more elaborate outdoor kitchen with more facilities than just a barbecue, it is important to locate your cooking facilities close to a water supply, so you can prep the food more easily and be able to respond quickly to any spillages.
3. Dining and entertainment space
The size and shape of your backyard will determine the best design for your outdoor kitchen. If you have a large space, it is possible to install tables and chairs or benches, capable of seating many guests. In a small backyard, you can create a welcoming and intimate feel by installing an island with bar stools, or a breakfast bar along one wall.
Don't forget, you will also need plenty of space for you, your family and friends to relax and socialise when you are not eating. It is advisable to save some of the patio areas for outdoor furniture such as sofas, chairs and coffee tables, perfect for spending quality time together on those summer evenings.
4. Good quality flooring
All outdoor kitchens need to look attractive, but they also need to be practical. This is something you need to consider when choosing your patio flooring. It must be hardwearing and durable enough to cope with high levels of foot traffic, especially if you entertain guests regularly. In addition, it needs to be safe, minimising the risk of slips, trips and falls.
Because of this, you should consider concrete or brick flooring rather than tiles, as tiling can become very slippery when wet. There are numerous attractive brick and concrete options that can create stunning visual effects in your outdoor kitchen.
Keep Your Outdoor Area Safe with Central Screens & Locks
If you are interested in creating an outdoor kitchen in your backyard, don't forget to keep security at top of your mind! Central Screens & Locks are happy to run through a security audit of your backyard, to ensure you keep intruders, and unwanted insects out, while enjoying your outdoor space. Contact our team today to find out more.