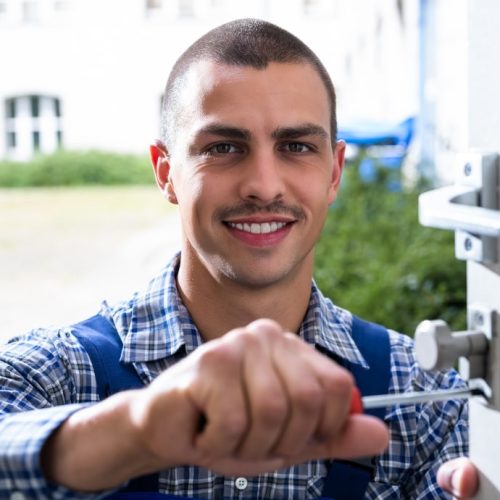 If you're looking for an interesting and unique career, consider becoming a qualified locksmith. Locksmiths provide essential security services to homes and businesses by installing, repairing, and maintaining mechanical and electronic locks. This unique career path requires field work, customer service, and skills learned through on-the-job training and real-world experience. Here is a look at how to become a locksmith.
Ready to start your career in security?

Central Screens & Locks is looking for qualified locksmiths to join our team. If you're interested in a challenging and rewarding career in the security industry, we want to hear from you.
A closer look at what locksmiths do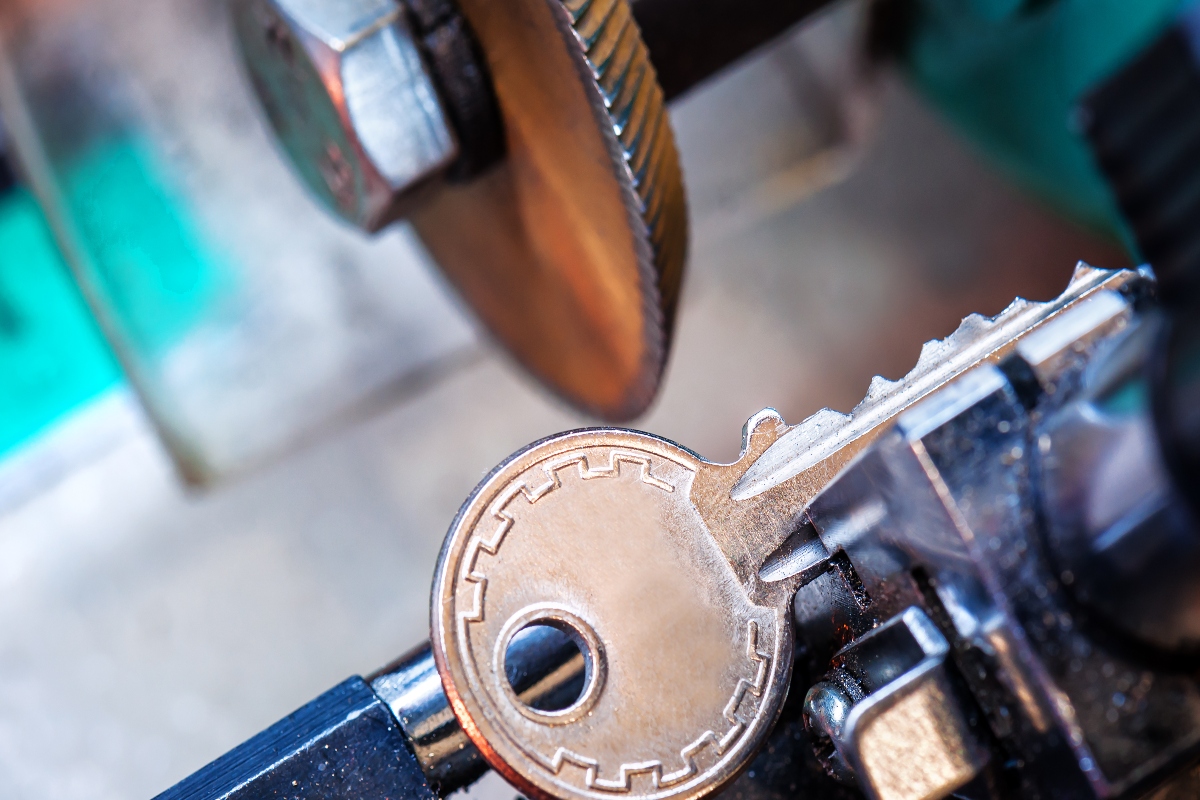 Locksmiths provide security for your home, office, and car.
Locksmiths work with a wide variety of security and locking systems. Their services include residential and commercial locksmith services, safes, and auto locks. In addition to traditional activities like key cutting, opening locks without keys, repairing or maintaining mechanical locks, and installing new systems, today's locksmiths often work with electronic locks and security systems.
These tasks include installing and programming electronic access control and security systems or ensuring new lock installations connect to electronic security systems.
Locksmiths often work in the field, with many having mobile locksmith services that they take to the client's location. Though they often work alone or as part of a locksmith team, the job does involve interacting with customers and clients.
Locksmithing can be a rewarding career because the work impacts the security needs of people and their valuables. Though you can seek training to start on this career path, you will eventually need to embark on a locksmith apprenticeship to hone your skills and learn how to apply them in real-world situations.
Completing a locksmith apprenticeship is the best way to become a locksmith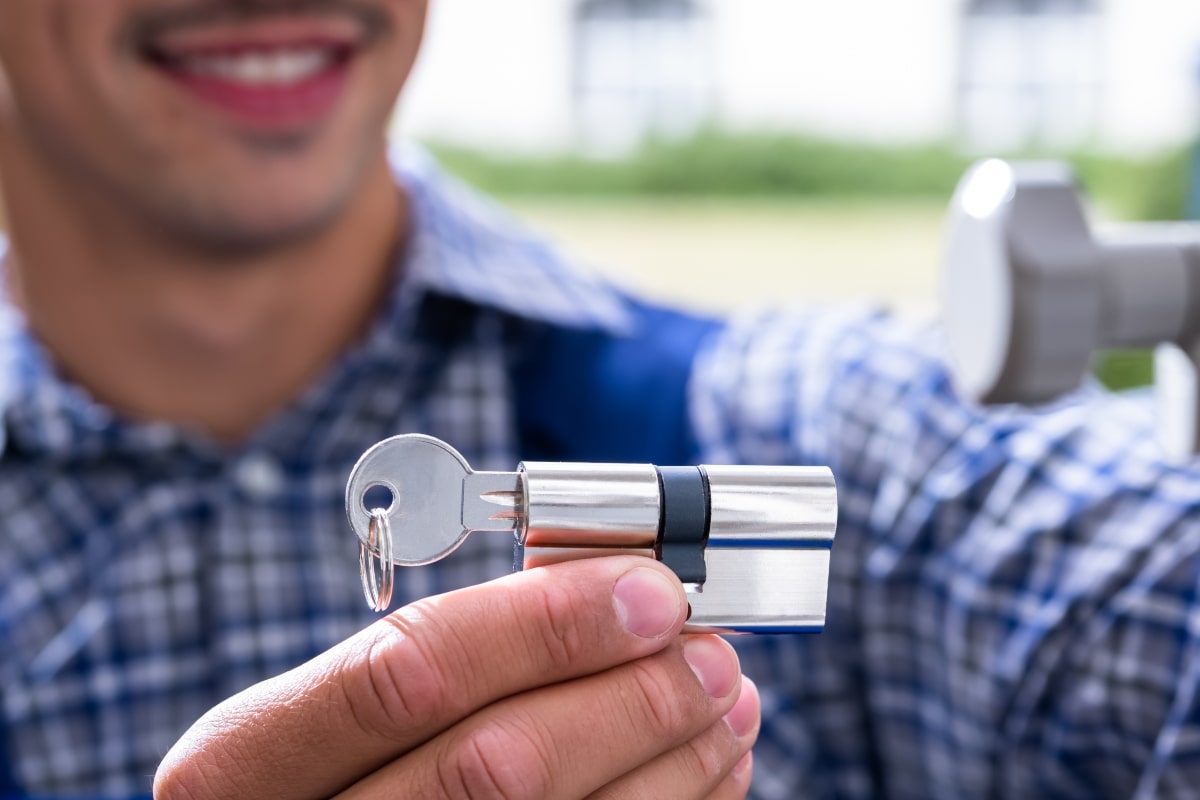 An apprenticeship will give you the opportunity to work with experienced professionals in the industry.
Here is how to get started in the locksmithing industry.
To become a professional locksmith in Australia, you must complete an apprenticeship or traineeship that includes theoretical and practical learning. Basic requirements and qualifications include a complete year 10 education in one or more prerequisite subjects, such as English or math.
You will also need to find an employer willing to provide an apprenticeship.
Because this career involves working directly with security systems, all locksmith apprentices must undergo a national police check.
Here is a closer look at the steps to becoming a locksmith.
1. Contact a local locksmith
The first step to becoming a qualified locksmith is to find a reputable locksmith willing to take you on as an apprentice. Your employer will make the proper arrangements with the Australian Apprenticeship Support Network (AASN) to organise the required training components of the program.
If you are looking for a locksmith apprenticeship in Perth, you should consider an established and respected company like Central Screens & Locks.
2. Complete a Certificate III in Locksmithing
The next step to becoming a locksmith is completing a Certificate III in Locksmithing or completing a similar educational program, such as Certificate II in Engineering Pathways (Locksmithing).
Where can you find these classes?
The certifications are usually available through a technical and further education (TAFE) college or a private vocational training provider. These programs teach you the basic skills you will need to start your locksmithing apprenticeship.
In Western Australia, South Metropolitan TAFE offers a Certificate III in Locksmithing.
3. Complete an apprenticeship
After completing the certificate program, you will embark on your apprenticeship.
How long does it take to become a locksmith?
The process takes about four years. During this time, you work alongside the established locksmith, learning the skills of the trade and applying them in different settings. A locksmith apprenticeship in Perth has a mix of on-the-job and classroom training.
At the end of the four years, you will be able to handle all the challenges you will encounter as an independent professional locksmith.
You should know that you will get paid for your work, with the advantage of earning while you learn.
Skills you will learn as an apprentice locksmith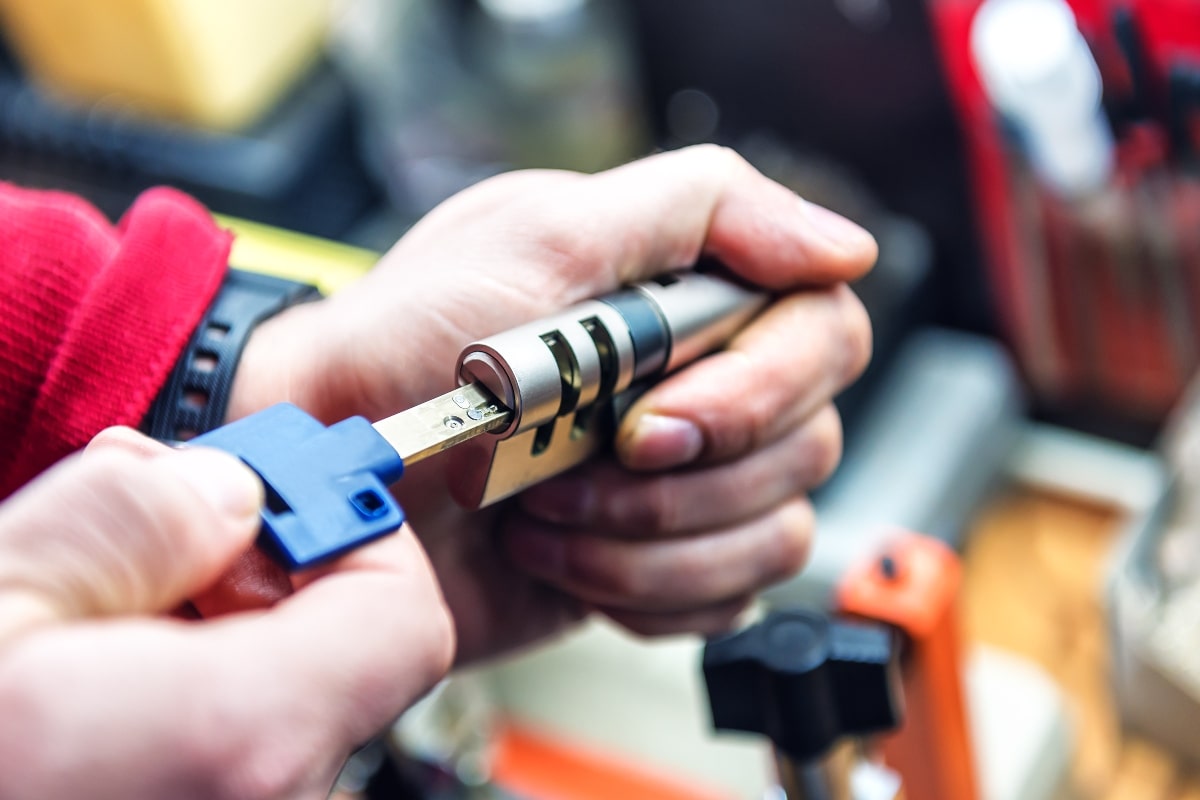 Master the art of key cutting and get experience with electronic security devices.
The practical skills you will learn as a locksmith include how to install, repair, and maintain mechanical entrance door locks, electronic security devices and key cutting.
In addition, locksmiths will also learn and acquire hard and soft skills.
Technical (hard) skills
Knowledge of different lock components, changing locks and rekeying existing locks.
Understanding and using various locksmithing tools
Computer knowledge to generate and maintain master key systems and transponder keys
Understanding of industry-relevant security sector standards and regulations
Ability to run security audits for offices and commercial businesses and provide expert advice.
Soft skills
Motor skills to handle lock components
Accuracy to ensure proper installation and repair using small tools and materials
Attention to detail
Physical stamina to work in the field, bend down, and hold components in place for long periods
Critical thinking to solve challenging problems
Customer service skills to deal directly with customers, who may sometimes be in distress if they are locked out of their car or home
The next step once you've qualified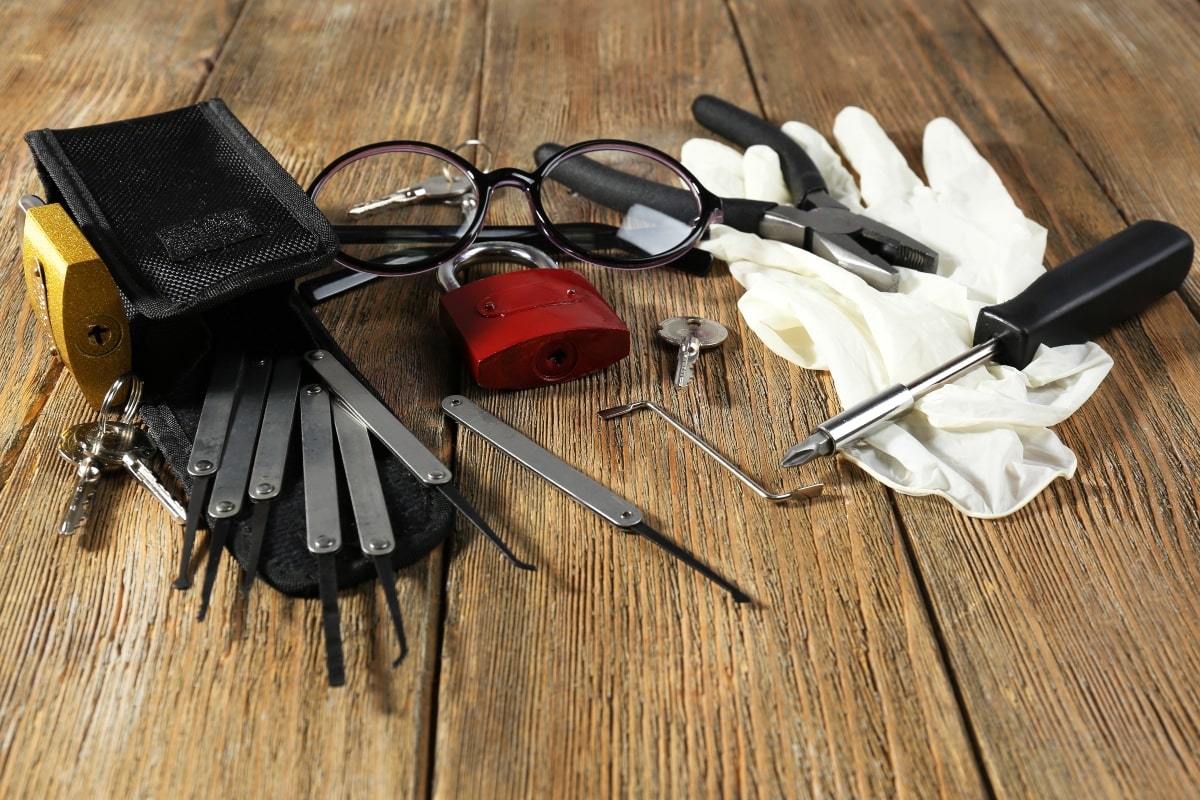 Gain a nationally recognised qualification in locksmithing.
Once you have a nationally recognised qualification, the next step will be to secure a full-time position or start a business.
You can also join professional bodies and organisations. These include the Locksmiths Guild of Australia and the Master Locksmiths Association (MLA).
These professional bodies offer benefits like access to professional networking events, training programs, and professional development opportunities that enhance your chances of securing a specialised locksmith job.
Benefits and challenges of a career in the security industry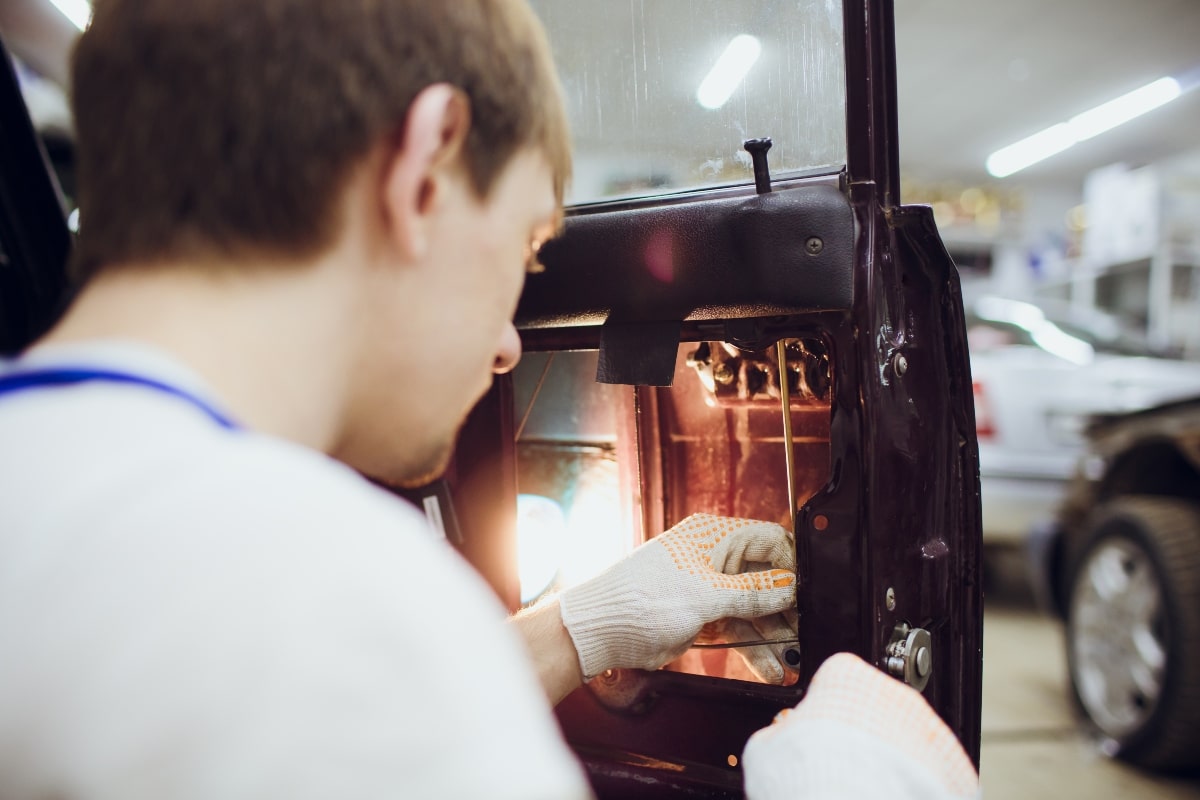 There are many opportunities for growth and advancement in the locksmithing industry.
Here are some of the benefits and challenges to expect once you are qualified as a licensed locksmith.
Benefits
Job satisfaction: Working as a locksmith can be rewarding because you are working to solve an immediate problem for your customer, and you can show them the results once you are done with the job.
High customer retention: Once customers choose and invest in a locksmith's services, they are likely to retain them for future jobs (if they offer quality services and positive results).
Job security: Security is indispensable for homeowners, drivers, and businesspeople. This means a constant need for locksmiths in both commercial and residential settings.
Career progression: Locksmiths are in high demand, so there are opportunities to specialise, start your own business, or work in demanding settings that qualify you for higher pay and benefits.
Challenges
Working hours: The type and amount of work assigned to locksmiths can be inconsistent. Also, people commonly require locksmithing services outside of regular working hours, so you can expect to go on service calls in the evening, at night, and during holidays or weekends.
Stressed clients: You may find clients in stressful situations, and you will have to deal with them while also solving their locksmithing problems. Many people will also have high expectations for their security systems and locks, causing you stress due to exacting or unrealistic expectations.
Tips to succeed as an apprentice locksmith in Perth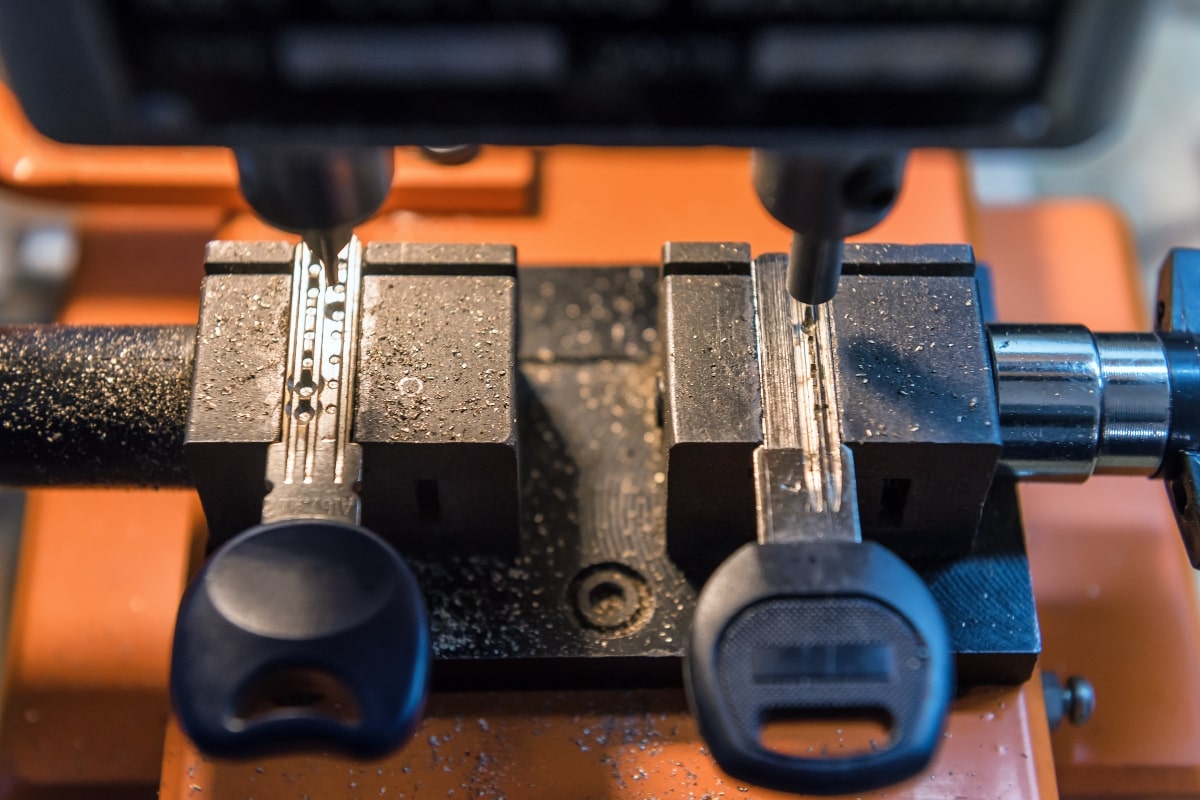 Stay up to date with the latest locksmithing techniques.
In addition to perfecting your skills, you will also need to stay up to date with new products and technologies to succeed as an apprentice.
In addition to technical skills, you should also pay attention to how experienced locksmith works on challenging problems and deals with difficult clients. These are things you will not be able to learn in a classroom or from a book.
Find a quality locksmith in Perth
At Central Screens & Locks, we offer mobile and commercial locksmithing services, car key replacement, and more advanced security solutions using the latest technology and restricted master key systems.
Contact us today if you need a licenced and qualified team of locksmiths in Perth.
Frequently asked questions
Locksmiths typically perform a range of tasks, including installing, adjusting, repairing and replacing locks. They may also be called upon to open or unlock doors in the event of a lockout. In some cases, they may also be called upon to design and install security systems. Locksmiths must have a thorough knowledge of lockpicking techniques in order to gain entry to locked premises. Mobile locksmiths must also be able to fabricate replacement keys on-site in the event that a key is lost or damaged.
In Australia, a locksmithing apprenticeship generally takes four years to complete. During that time, the apprentice will learn about different types of locks and how to open them, as well as how to make and fix locks. There are both on-the-job training and theoretical components to the apprenticeship. Upon completion, locksmith apprentices will have a qualification to work in the industry.
Locksmiths need a variety of skills in order to be successful. They need technical skills to be able to work with different types of locks, as well as soft skills to be able to communicate effectively with customers and provide good customer service. They also need motor skills to be able to manipulate the locks and tools accurately.
Central Screens & Locks offers both residential and commercial locksmith services. We can cut keys on-site, replace lost keys, and provide automotive locksmith services. We have a team of experienced professionals who are available 24/7 to help you with your locksmith needs. Contact us for more information or call (08) 9259 5288 to book an emergency locksmith.