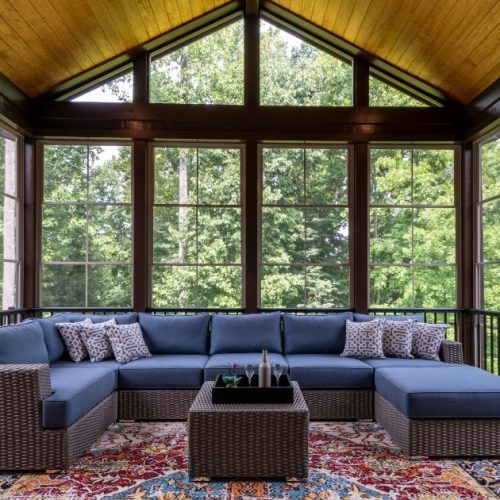 Most parts of Australia have a great climate that allows you to enjoy outdoor living almost all year. However, if you're not fond of the glaring sun, dust, noise, birds and bugs, it only makes sense to create an outdoor enclosed patio that is comfortable and enjoyable.
This way, you can entertain your family and friends outdoors without worrying about bad weather conditions and environmental disturbances.
Here's everything you need to know about different outdoor enclosed alfresco designs and their benefits.
Types of enclosed patios
There are various ways you can create your enclosed alfresco, depending on how you want to use the space. Your enclosed alfresco project can be a simple installation or a full-on construction project.
The following are the most popular patio enclosure ideas in Australia:
Security screens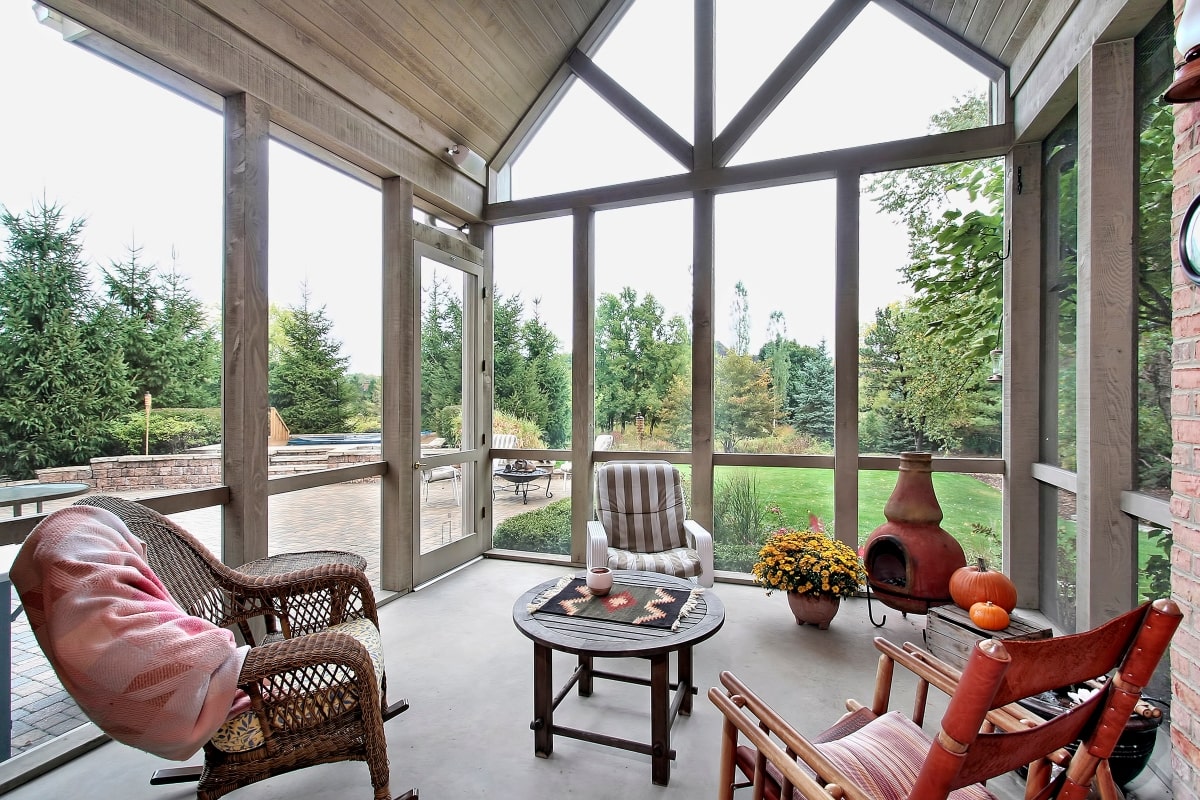 Security screens are popular among homeowners who want to enclose their patio area. Screened-in patios are quite similar to sunrooms, but they offer a much better outdoorsy feel than the latter. Screened-in patios are either fully or partially enclosed using mesh screens, in place of the traditional walls and windows.
Secure patio screens, such as sliding security screen doors or stacking security doors, offer better protection and are more durable than traditional flyscreens. So consider replacing flyscreens with security screens made from tough aluminium mesh for added security and protection from the glaring sun, pests and break-ins.
Screened enclosures connect your interior living spaces to your outdoor space, making them a versatile and stylish choice. Patio screens allow you to enjoy the beautiful outdoor views and enjoy outdoor living year round, without the annoying insects. Installing security screen doors in your home's alfresco area design adds an extra level of protection, making them the ideal solution for decks, patio enclosures and home extensions.
Pros
Offers extra security against intruders
Protects your home from weather and storm damage
Keeps pests out of your home without obstructing your view
Highly durable and comes with long-term warranties
Provides a lot of privacy
Looks amazing, with a variety of colours and designs to suit your home's style
Provides an added layer of child-proofing and pet-proofing to your home
Adds value and is attractive to property buyers
Cons
Unsuitable for cold weather
Potentially more expensive than other options such as pergolas and decks
Requires expert installation for maximum efficiency
Glass sunroom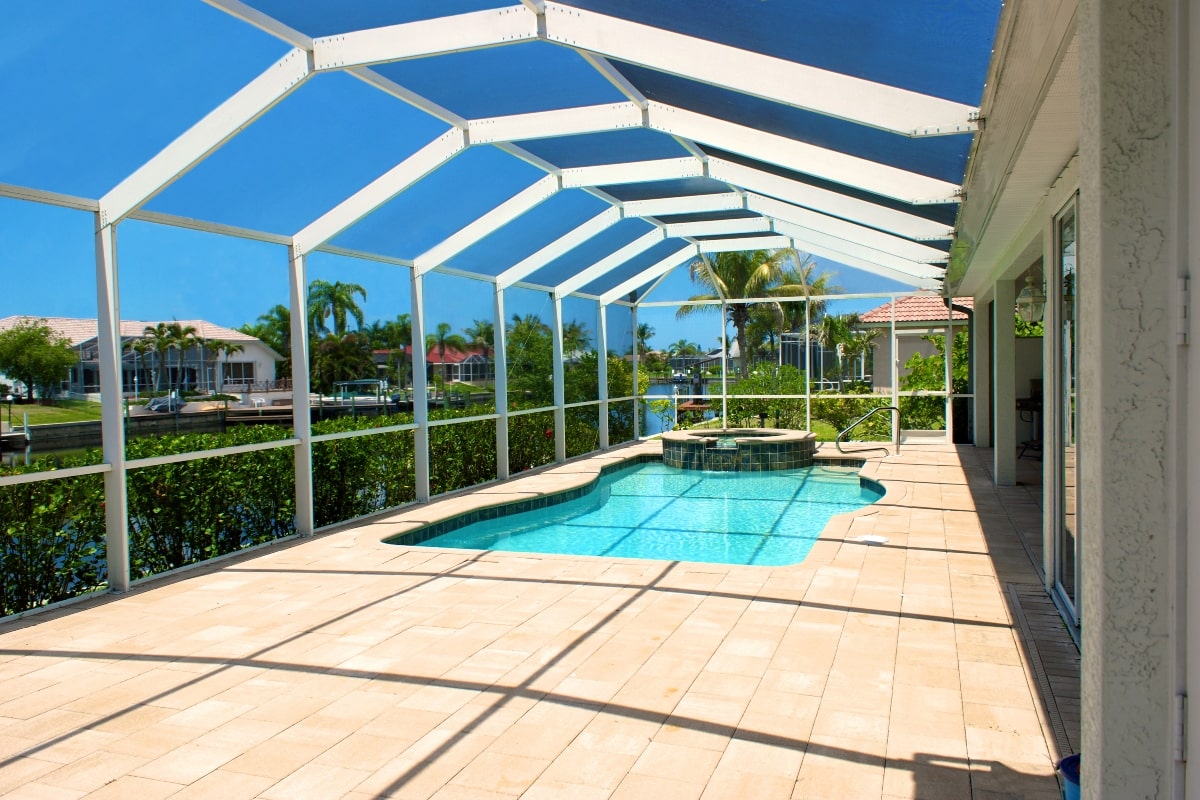 Glass patio enclosures, also known as sunrooms, provide you with plenty of natural light. These enclosures are ideally designed for year-round use, and you can choose the roof style, door type, final finish and other customisable features that suit your taste and preferences.
If your house already has a patio under its roof, all you need to do is frame walls and install glass panels to create a glass-enclosed patio.
On the other hand, if your home's roofline is not on the same level as your patio, you could install a glass roof to create a solarium or covered pool enclosure. Also, if you feel that your glass-enclosed patio needs more airflow, you can substitute some of the glass panels with mesh screens and doors.
Pros
Elegant appearance
Provides maximum exposure to sunlight
Can be used for vegetation and gardening
Can block outside cold and unwanted elements if sealed properly
Resistant to environmental degradation since glass doesn't absorb water
Cons
Best suited for colder climates, as can be hot during warm summer months
Requires extensive maintenance, especially if your home is surrounded by trees
No protection for harmful UV rays
Privacy screens and pergolas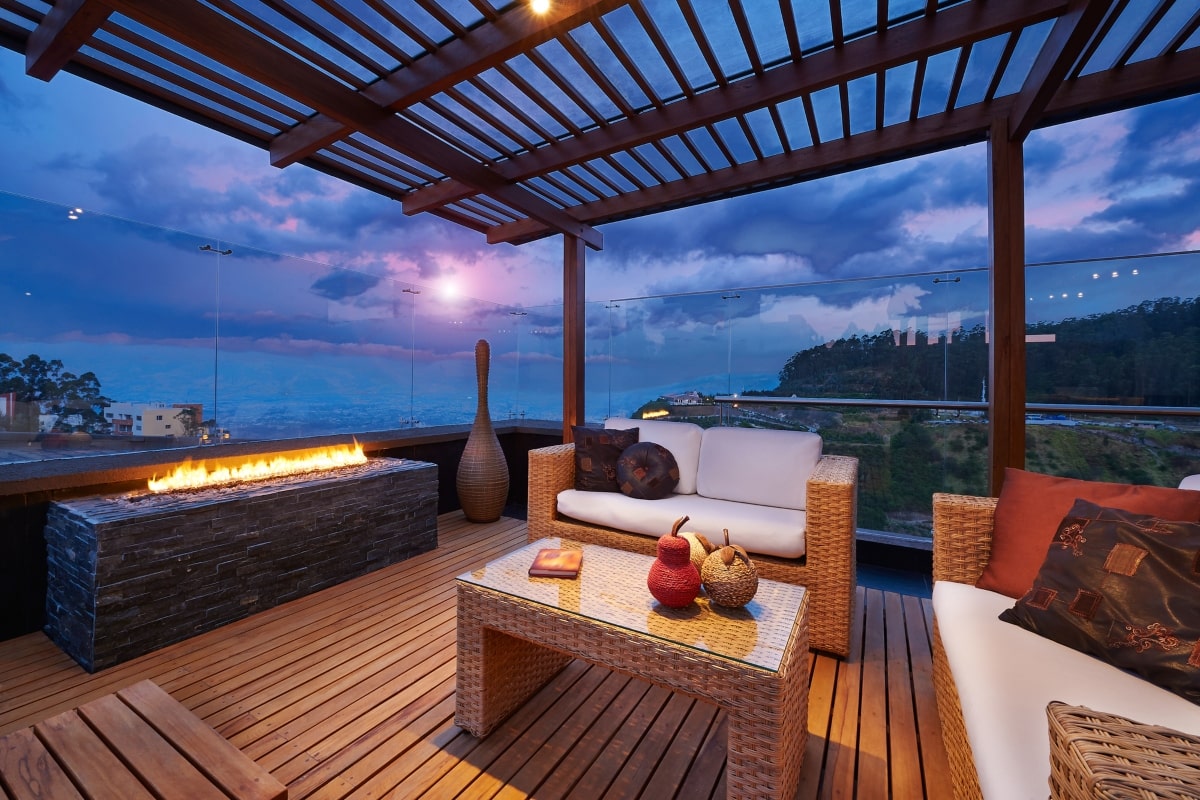 Another popular option is to use privacy screens to create private outdoor areas. A pergola is an exterior structure that is open on the sides and semi-open on the top to let in sunlight. Even though privacy screens and a pergola don't create a fully enclosed patio, constructing one will serve you well when adding privacy to your outdoor area. Most pergolas are held up by powder-coated aluminium frames or wooden columns and can be freestanding or attached to your home.
Pros
Cost-effective way to give your home a unique and personalised look
Enhances the market value of your home
Highly durable if you opt for aluminium frames and treated wood columns
Can easily be DIYed
Possible to include a retractable canopy or attach fabric for weather protection
Cons
Requires extensive maintenance
May lose aesthetic appeal over time
May attract termites and other pests if untreated wood is used
Outdoor blinds or pull-down screens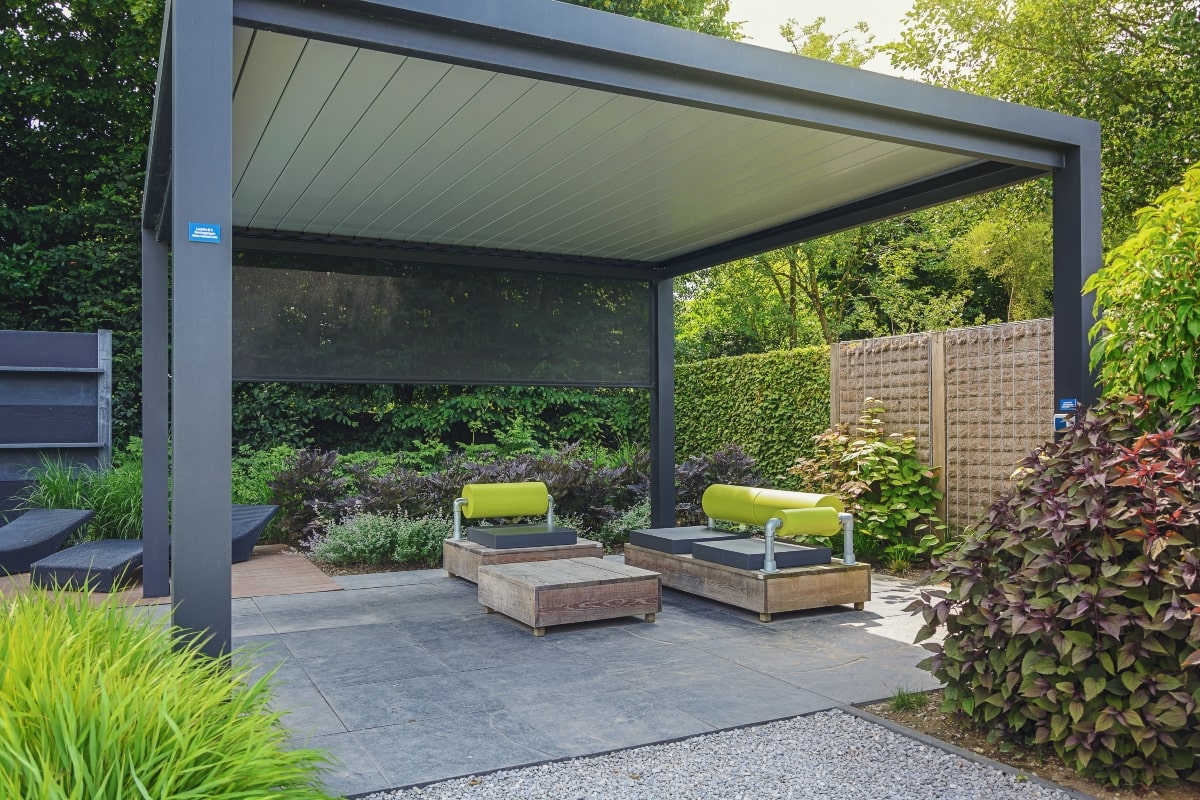 You can use outdoor motorised blinds to enclose your patio, allow natural light and block out bad weather. Outdoor blinds or pull-down screens come in various materials, including plastic, wood, wood substitutes, PVC and even metal.
Additionally, depending on your preferences, you can choose between vertical or horizontal designs for the vanes.
Pros
Affordable
Allows light regulation
Easy to personalise since they come in many designs and colours
Provides heightened privacy to your enclosed alfresco
Blends well with any environment
Cons
Not recommended if you have children and pets
Noisy when it's windy
Challenging to clean
Lift tape deteriorates over time
Cannot withstand a lot of heat
Requires professional installation
Shade sails
Shade sails are a popular patio enclosure option not only in Australia but around the world. They are ideally designed to block the sun's harmful UV rays so that you can enjoy the outdoors even during the hot summer months. You can install shade sails on both residential and commercial buildings.
Pros
Improves the appearance of your home
Cost-effective
Offers great ventilation and cooling
Easy to install and remove
Eco-friendly
Cons
Tend to sag in the middle
Not great for rain and storm protection
Can be easily damaged
Have the potential to be a fire hazard
Benefits of patio enclosures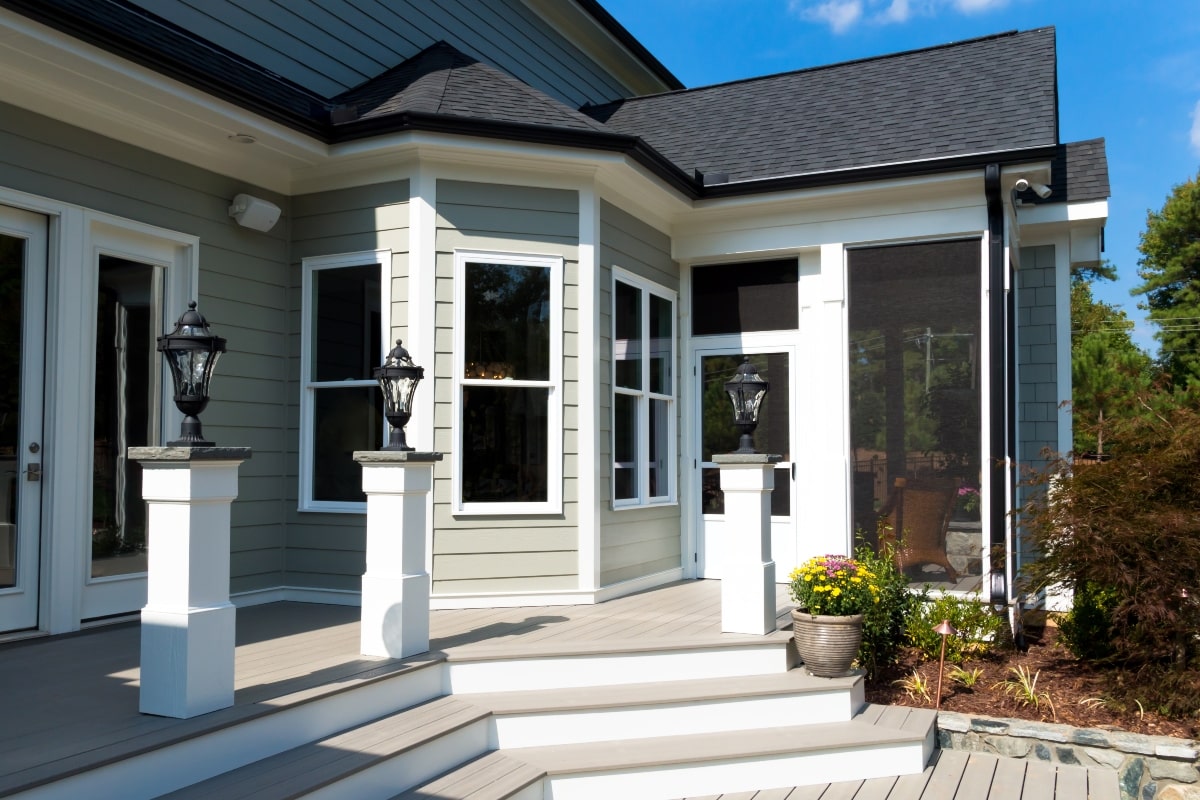 Enclosed patios come with many benefits, including:
Security
With a patio enclosure, you can enjoy the serenity of your outdoors without worrying about the prying eyes of outsiders. Enclosing your alfresco area with security patio screens provides a layer of home security against intruders or unwanted visitors trying to break into your home.
Airflow and ventilation
One of the best things about an enclosed alfresco is that it allows you to enjoy fresh air without compromising your privacy and security. A patio enclosure can also improve your home's ventilation without needing an air-conditioning system. This will help prevent mould and mildew in your home and save you money on electric bills in the long run.
Barrier against insects
Spending time on the patio while soaking up the sun is relaxing and fun. However, this won't be the case if you have to spend most of your time swatting off flies. With a patio enclosure, you have a natural pest control solution. This means you can comfortably enjoy outdoor living without worrying about pesky birds, bugs and pests invading your space.
Protection from the elements
By enclosing your alfresco area, you don't have to worry about protecting the space and outdoor furniture from bad weather elements like rain and heat. An enclosed alfresco will also protect you from cold in the winter and harmful UV rays in the summer.
Additional living space
Suppose your home doesn't have enough room where you can host parties. In that case, bifold patio doors give you more room to entertain family and friends without missing the beautiful weather outside or breaking the bank.
Added value
A well-designed patio enclosure adds aesthetic appeal and increases the resale value of your home. By constructing a simple patio enclosure, expect to fetch a good price for your home when you decide to sell.
Designing your ideal enclosed patio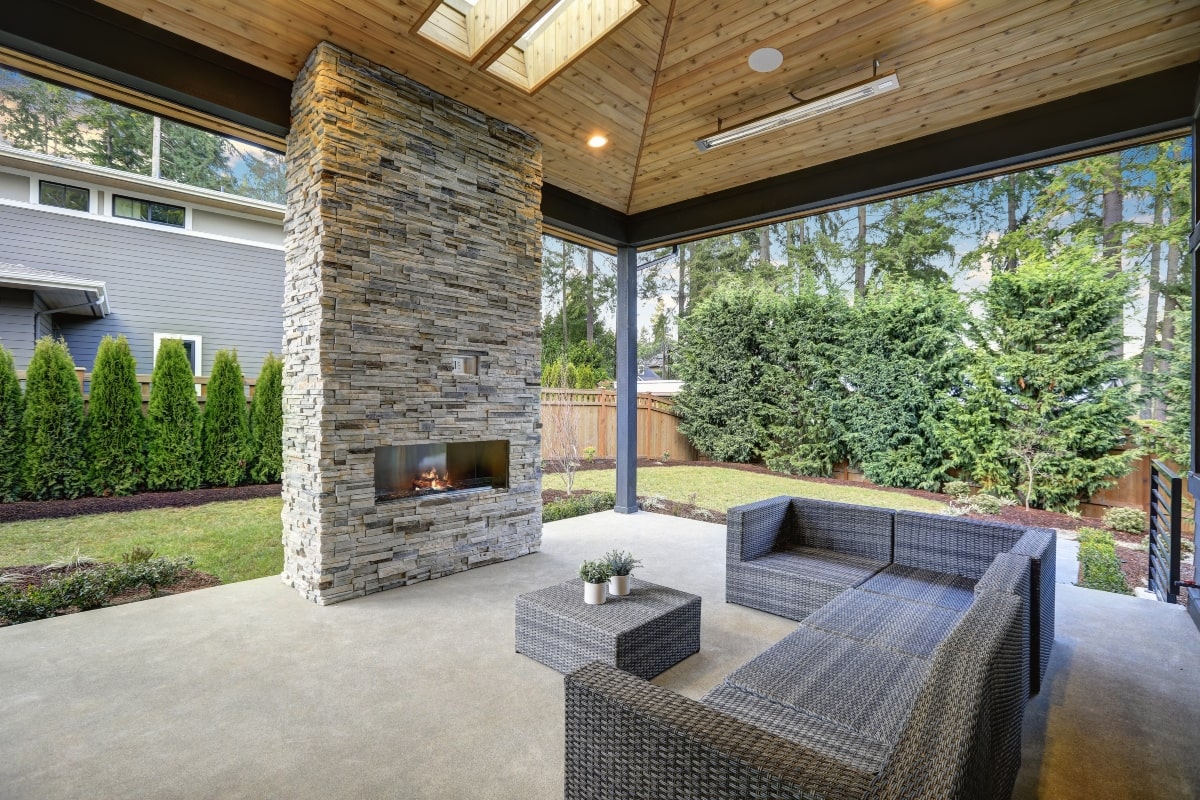 If you don't already have one in your home, these alfresco enclosure ideas will help you design your ideal enclosed patio:
Shade and shelter
Constructing an enclosed alfresco means you can have control over the weather. Therefore, ensure you use this opportunity to incorporate shade and shelter to make your alfresco suitable for use all year round. This can be integrated in a flexible or permanent way.
Adaptable furnishings
If you entertain regularly, consider incorporating adaptable furnishings that you can easily move around. This will serve you well when it comes to hosting both small gatherings and huge parties.
A physical connection between inside and outside
Your enclosed alfresco should connect your house and the outdoors. Therefore, you want to implement an enclosed alfresco that will help you connect the two.
For instance, consider installing sliding security doors or folding security doors that fully disappear to help reduce the physical barriers between the two.
Outdoor kitchen
After designing your ideal enclosed patio, you want to eat and entertain there. Therefore, it's only fitting to include an outdoor kitchen or cooking facilities that will make things easier and enhance your enclosed patio's functionality.
Low maintenance
Ideally, you want to spend most of your time enjoying your enclosed patio, not cleaning it. When selecting furnishings, it's important to choose outdoor furniture materials that are durable, heat-resistant, waterproof and generally low-maintenance.
Make the most of your outdoor living space with an enclosed patio from Central Screens & Locks
Designing the ideal enclosed alfresco can be pretty intimidating. However, following the above enclosed alfresco ideas will make everything easier and help you create an outdoor space you'll love.
If you need help creating a unique enclosed outdoor area for your home or want more information about our sliding security door range, don't hesitate to contact the security screen specialists at Central Screens & Locks today.
Frequently asked questions
An enclosed patio is an outdoor living space that has been shielded from the elements by walls or screens. Patio enclosures can be attached to your home's exterior wall or free-standing structures built around a patio area.
There is a range of materials that can be used for an enclosed patio, but security patio screens provide the best level of security and durability. Made from aluminium or stainless steel mesh, they are resistant to rust and weathering and provide complete privacy and security for your outdoor space.
Central Screens & Locks have the widest range of Amplimesh® products available and can custom-create patio screens to suit your alfresco area.
When enclosing an outdoor area, you should consider the climate in your area, as well as your budget and the functionality of the space.
If you live in a temperate climate, you may want to consider a patio enclosure that can add year-round use to your backyard, utilising screens to provide privacy and keep out annoying insects. If you live in a colder climate, you may want to consider an outdoor living space that includes a fireplace or heating element. This will allow you to enjoy your backyard even when it's cold outside.